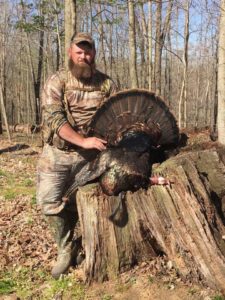 I was born and raised in Doddridge County, WV, I am 33 years old and currently live in West Union, WV with my wife Brandi and two sons, Zane and Wyatt.
I started hunting with my dad at the age of 8. Harvested my first buck with a rifle at age 9, a spike buck. I harvested my first deer with a bow in 1999 and in 2001 I finally harvested my first buck with a bow, a four point. I harvested my first spring gobbler at age 9. I am very grateful for my dad taking the time to pass on the hunting heritage to me and now I am passing it onto my two sons. I am really looking forward to filming their hunting trips for many years to come.
I have been a surveyor for the past 13 years and I am currently employed with Civil & Environmental Consultants, Inc. (CEC) in Bridgeport, WV. I also enjoy fishing, coaching my boy's baseball teams and spending time with the family. My wife Brandi tags along hunting whenever she can get away from work.
My passion for hunting is something that will never go away, I truly enjoy being in the woods as much as I can. In my opinion there is nothing better than being in these West Virginia hills on a spring morning watching and listening to her come alive. Get out and enjoy them as much as possible! Good luck and be safe!